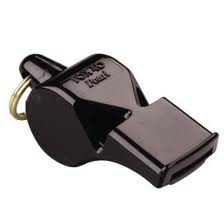 This is a reprise of an article written by Al several years ago …
that is definitely worth reading prior to each and every year.
[Ref60 Editor]
 As the new year is upon us, West Virginia Intercollegiate Athletic Conference Interpreter, Al Battista, provides his "Top 20 Officiating Resolutions" for your consideration as we move into 2011.
Focus on incorporating some of these successful habits into your game for the new year. Keep the list handy and review it often to make sure you are sticking to your Referee Resolutions.
Please post in our Comment section any additional referee-specific resolutions that may be helpful to our REF 60 community.
Annual New Season Resolutions
Be at every game on time and be prepared to officiate.
Are you allowing enough travel time to get to your contest. Early and relaxed is better than stressed and late.
Do your homework preparation before each game.
Are you aware of the records, history, or match-ups that exist between the two teams you're officiating?
Have a thorough pre-game.
If you are the referee, you should be leading the conversation. In absence of a strong crew leader … take control and drive a good, conversational pre-game covering as many topics as time will allow.
Have a beneficial post-game without "nitpicking" each other.
It's always easy to start this conversation by asking the question, "is there anything we could have done better out there tonight."
Master the rules and know the intent of the rules.
When is the last time you had your "nose" in the rule (or case) book? Take one hour per week and curl up with your favorite rule topic that gives you troubles.
Enforce "freedom of movement."
Review NFHS 4-24 as it relates to legal and illegal use of the hands/arms. Know when to enforce illegal contact inhibiting a player's freedom to move.
Have excellent clock management skills.
Are you keenly aware of the clock at all times? This is a good item to practice at all levels – maintaining "definite knowledge" of time remaining after stoppages.
Communicate with one another.
Are you maintaining good "eye contact" with your partners at all times? Do you verbalize clearly at the spot of the foul (or violation). Make sure to drop the whistle and sell rulings that need selling – loud enough to be heard by all.
Know what team is in the bonus and double bonus.
There is no excuse for a crew having to correct this error. Keep an eye on scoreboard as the penalty approaches.
Know how many fouls a team can "give."
When it's crunch time and you know a team will be fouling their opponent… be aware of how many it takes before they shoot the bonus.
Know the team control rule.
It is fundamental to the game and has slight differences between NFHS, Men's NCAA and Women's NCAA. (NFHS 4-19-7)
Penalize unsportsmanlike conduct on players and coaches.
Talk about this in your pre-game conferences and be prepared to enforce proper decorum. Remember however, once a player/coach is ejected there is no turning back or changing your mind.
Be a good partner.
Avoid speaking negatively to a coach/player about one of your partner's rulings. Despite any notion to the contrary, the only friend you have on the court are your partners. You ultimately rise and fall as one, so support each other 100%.
Be a good mentor.
Offer constructive advice to less experienced officials at every opportunity. Take a moment to consider how fond you are to this day of the officials who made time to help your game and your career…Be one of those officials.
Officiate every possession hard.
Think officiating in chunks of "2 minutes" at a time and never take a break on a possession. Work hard and be in the right spot to make the proper ruling – "every time."
Break down video once or twice a week.
Ask the school for a copy of game tapes and review it with a critical eye. It's amazing what you will learn about your game. You will begin to officiate with the goal to, "beat the tape."
Observe games and be positive.
If you are sitting in the stands watching your peers, be positive and never criticize a colleague in front of others. Discuss plays and mechanics in private remembering to offer constructive advice.
Watch your diet.
The new season is always a good time to reset your caloric intake and keep your body running efficiently for the long haul ahead.
Have an in-season exercise program.
If the only exercise you get is on the court during a game, you're exposing yourself to potential injury or worse. Incorporate stretching, strengthening, and aerobic exercise as a weekly routine.
Get proper rest between games and do not overwork.
Muscles and joints need a break to recover properly so make sure to give it to them. If you're driven by the money or prestige of a heavy schedule, consider that you could lose both due to an injury brought on by overtaxing your body.
As the year unfolds we encourage you to learn and grow from each game. Build upon last year's successes and mistakes, and always strive to become a better official each and every time you walk onto the court. The game of basketball and the student-athletes deserve that.
If you have a special "new seasonal" resolution of your own to share, please provide them below. From all of us here at 60 Seconds on Officiating we wish you a great start to the new year.
About the Author